Day 16 - Virgin River Canyon Rim - Zion National Park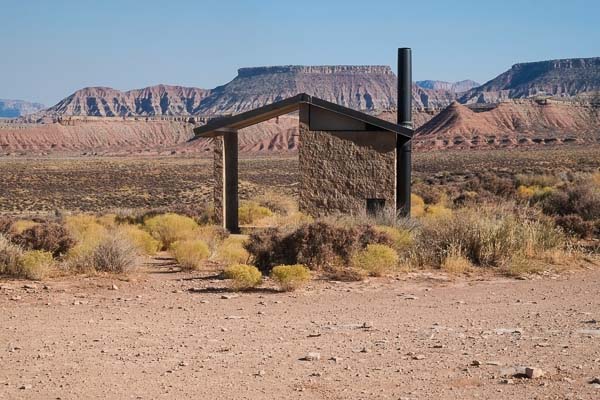 Never mind the Peek a Boo trail we've found the Peek a Boo toilet hut.
The Mythical Latrine at the End of the Universe.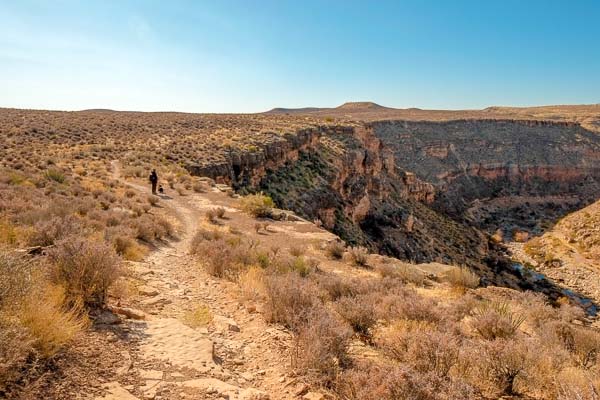 Our canyon rim walk of the day – along the Virgin River as it flows out of Zion National Park.  We are actually on a bike trail, and there is a nutty mountain enduro race here this weekend – the 25 hours of Frog Hollow.  The race is 25 hours long because it is held on daylight-to-standard time change day, so the day has 25 hours.  Ouch.
Wide, open, panoramic vistas – the 360 view really can't be communicated in a photograph.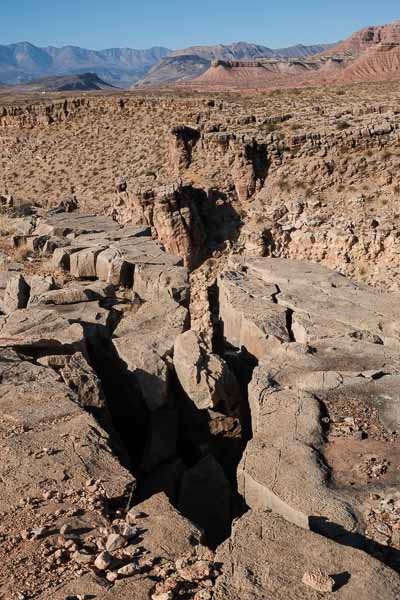 This is true BLM country. No barriers, no warnings – and the canyon edges are literally cracking open.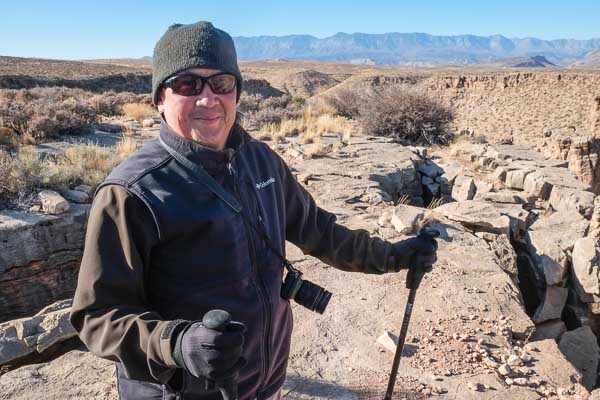 An unexpected cold front has slithered down upon us from the Great White North. Even Russ has accommodated with a toque, gloves and heavy jacket. But indeed – he still is in shorts.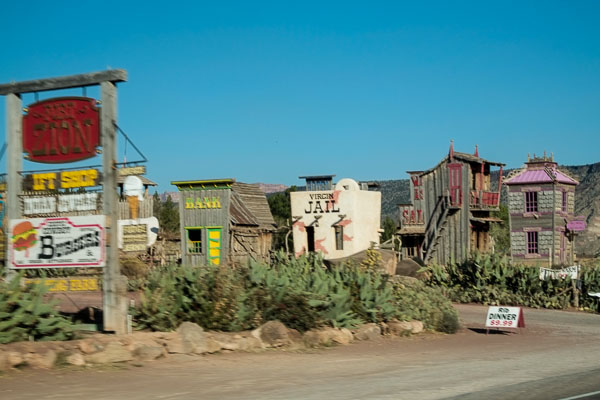 We must be close to the Zion gates – the tacky tourist attractions are popping up around us.
Wouldn't be a bad retirement palace!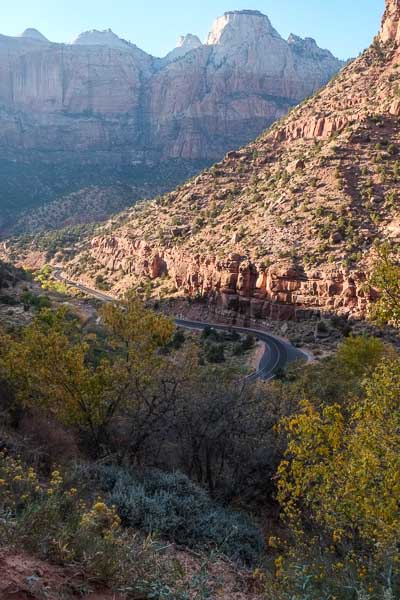 Inside Zion Park we wind our way up the switchback road for late day views. The rest of Zion is now only open by organized shuttle bus transport. Not worth the $35 admission price.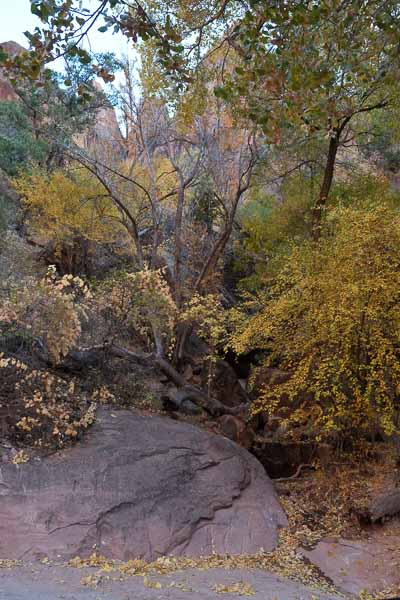 The fall foliage is elegant along the roadside.
This alcove is used to surveil misbehaving tourists in Zion Park.  There is a long, long list of possible misbehaviours, and nobody really understands all of them.  The fines are a big moneymaker for the NPS.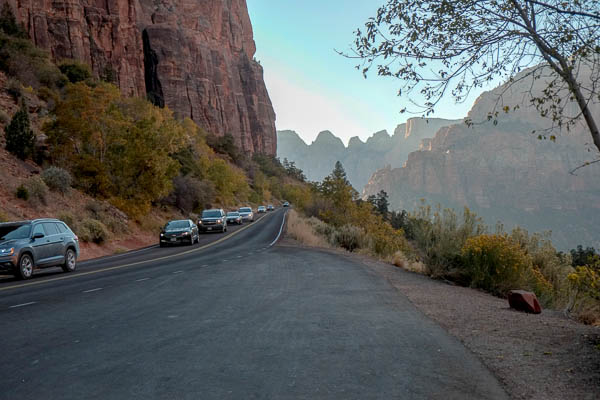 The infamous Zion Park traffic jams make LA freeways look like high-speed amusement park rides.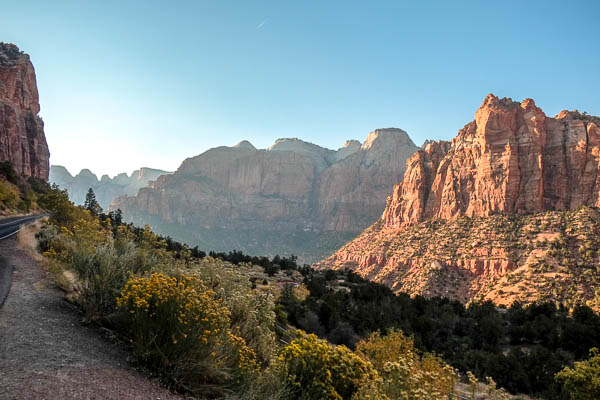 Dunno if the views are worth the traffic, but they are pretty.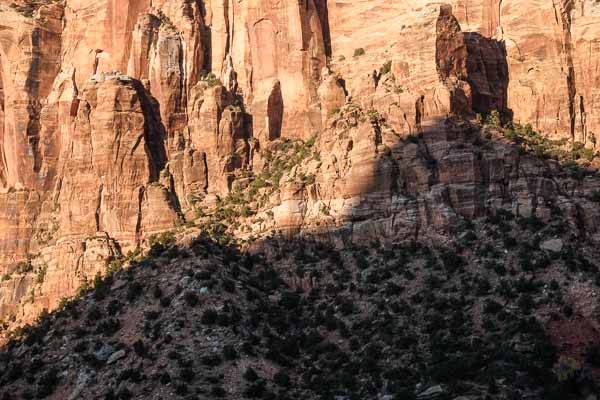 Late afternoon shadows play on the steep red walls.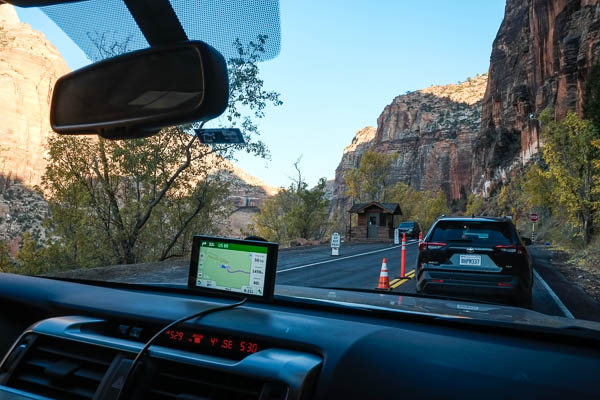 To top off our less than stellar Zion experience – we wait in line to move through the Mt Carmel tunnel. When large vehicles pass through – they can only operate it in one direction. Seemed we waited an inordinate amount of time as regular passenger vehicles dribbled through. Don't know what that was all about. We won't be back.