Day 20 - Best Friends Animal Sanctuary
When we booked our time in Kanab – I discovered that we would be in close proximity to a huge animal sanctuary called " Best Friends". Until we got here – I had no idea how large this organization actually is. Today I got my chance to book onto a tour of the Parrot Garden – and then bring Russ and Ella back later to explore the massive grounds. Most of you know that I am involved with a parrot rescue at home called the Greyhaven Exotic Bird Sanctuary. Today's collection of photos is really for my bird friends – so they can see the incredible things I witnessed today. Everyone else, please peruse as you like. "Best Friends" has an extensive website, so if you want to learn more go to   https://bestfriends.org/our-work/regional-programs/best-friends-utah.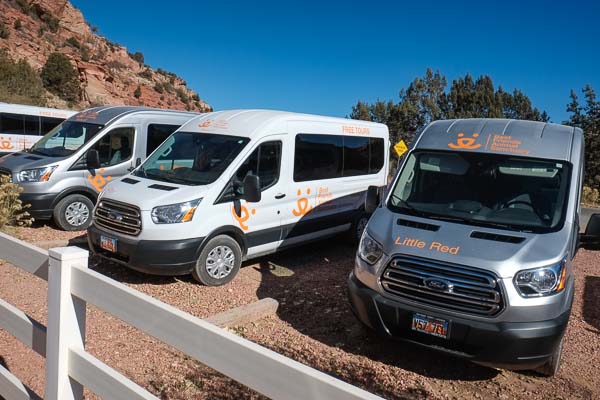 Best Friends "fleet". There are daily tours of the entire facility for visitors. Vehicles are used for many other purposes, of course.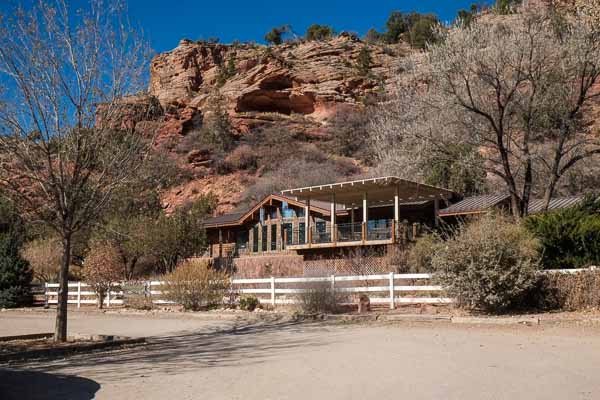 The Welcome Centre. There's a massive gorgeous porch, gift shop, and very friendly folks to help you with whatever you want to do.
A little piece of "Horse Heaven". Of course I am mostly interested in the parrots – but Best Friends services many animal species.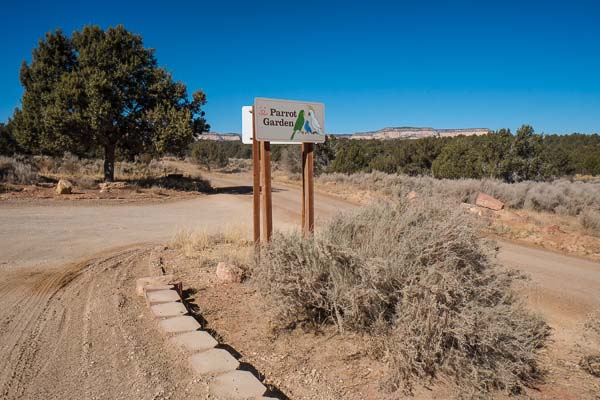 Best Friends has sanctuaries all over the US. But Kanab is the only one with a parrot rescue program.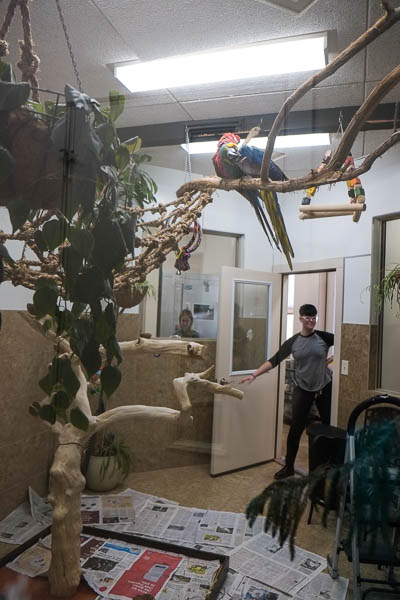 Inside the main shelter building, our intrepid tour guide checks in on two macaws enjoying life in a large and well appointed play area.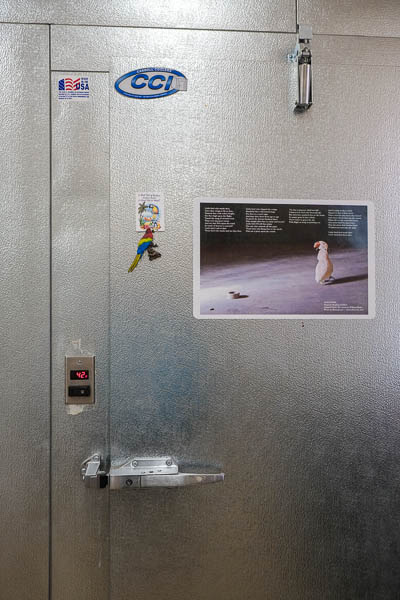 Now that's a refrigerator!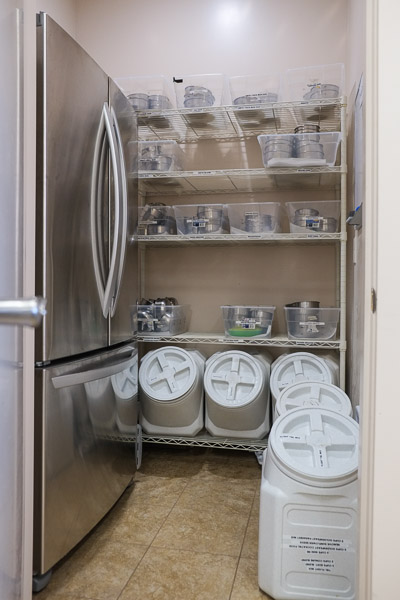 Plus a regular fridge/freezer to boot! Love the coordinated storage bins – the stainless bowls are very familiar.
This is also a very familiar set up to Greyhaven – when I saw the bowls drying I felt like I was right back in Ladner!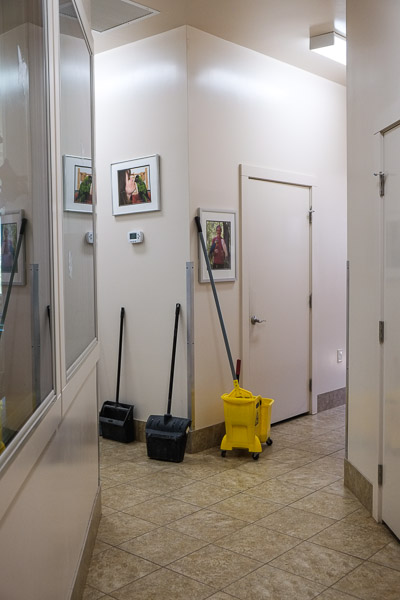 Of course no rightful parrot sanctuary can be without these items! They were in hot use while I was there. The parrot garden has 4 full staff – with one more immanent.
Volunteers from the local community, as well as folks who drop in, or plan a volunteering vacation round out the care team.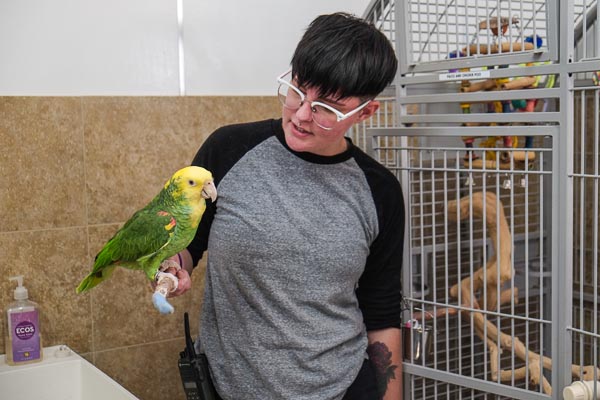 Our guide Ellie – with resident amazon – I think his name was Peek a Boo. Also the name of a local canyon – and my rare discovered toilet huts.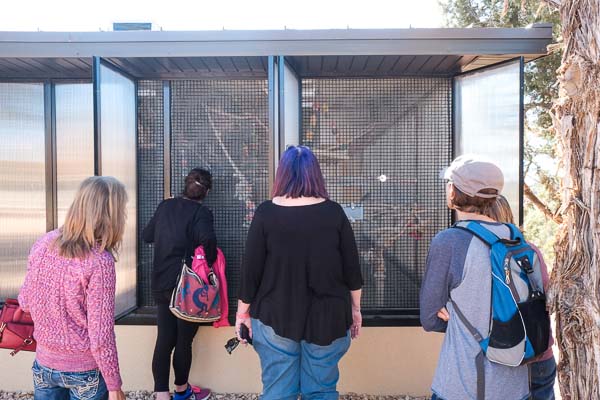 This is the facility for a group of African Grey Parrots who will call this their forever home. These particular birds prefer the company of each other to humans. It's an incredible aviary – with opening (heavily screened!!) windows all around, but supplemented with heating for the cold nights and months.
Yet another project underway in the Parrot Garden. This will be a new cockatoo building – with a large playspace in the middle – and living quarters on either end. Lucky Toos!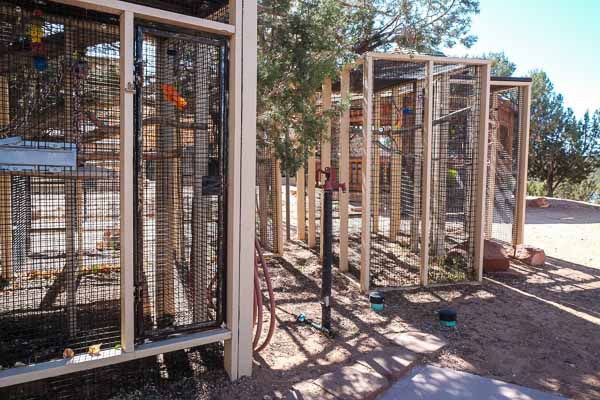 Outdoor cages for fresh air and fun – when the temps are higher than 55F and no wind.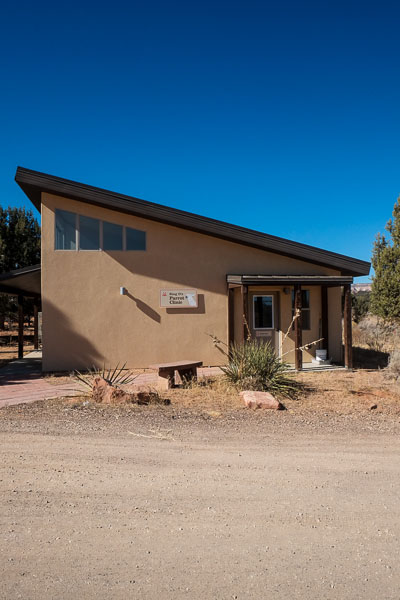 There are 6 veterinarians to serve all animal populations. There is a large vet centre – but the parrots get their own clinic. There is a vet on the team with special parrot experience – but there is no avian certified vet. Good relationships exist with avian vets in Salt lake City and Las Vegas.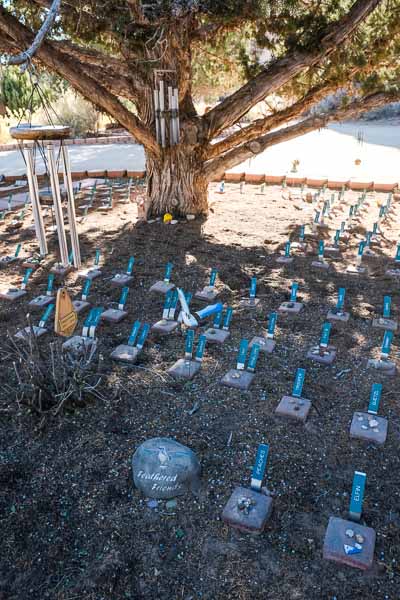 The feathered friends section of the cemetery for pets on the Best Friends property at Angel Canyon.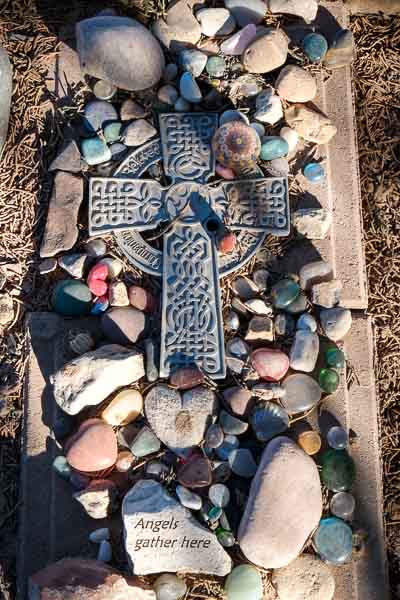 Grave embellishments in a section for the 4 legged furry ones.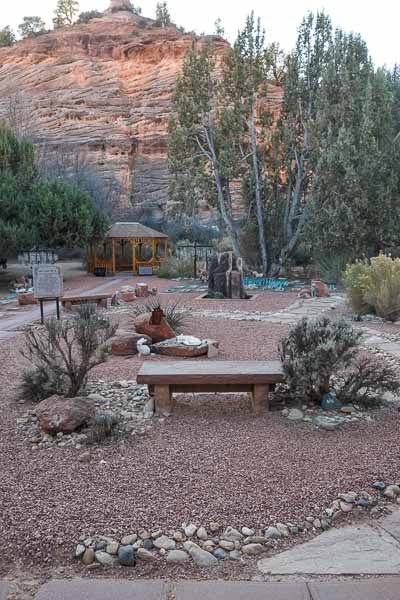 The setting for the cemetery is so peaceful, with red rock formations all around.
Wind chimes are located throughout the cemetery – all tuned to the note "G" for harmonious tones when the wind blows.
The hiker meets the gate.
A fairly rare thing in these parts:  a slot canyon with a full-time water supply.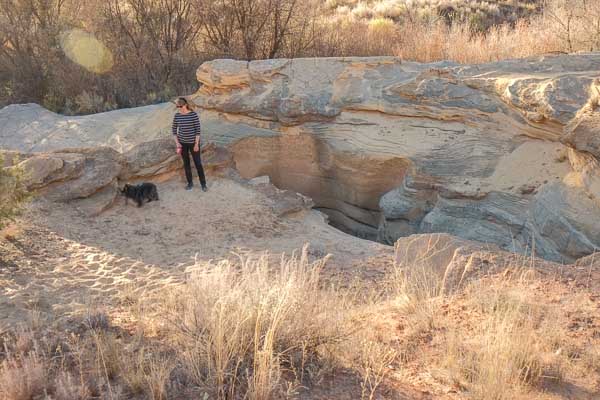 Slot canyon rims are pretty crazy, too.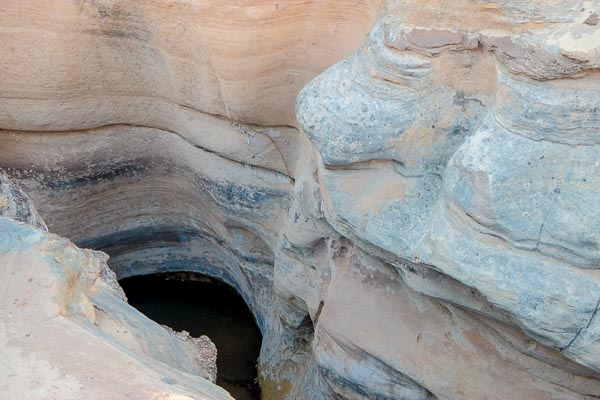 That's Kanab Creek down there.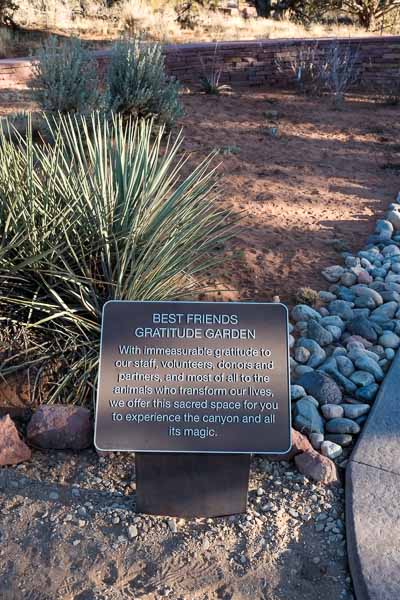 A tranquil space to rest – and acknowledge those who have contributed to the success of Best Friends.
Entrance Bridge to the Gratitude Garden.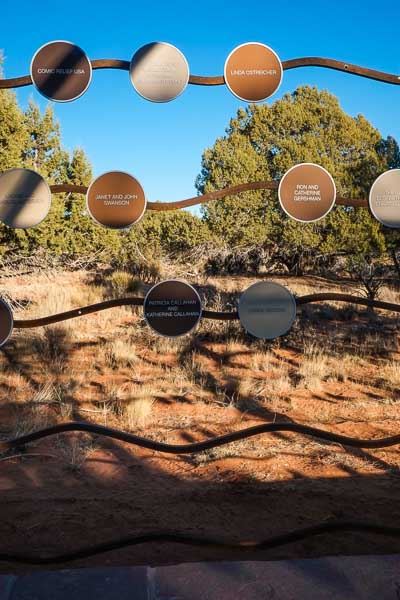 Sides of the bridge are covered with small disks with names of those who have made donations.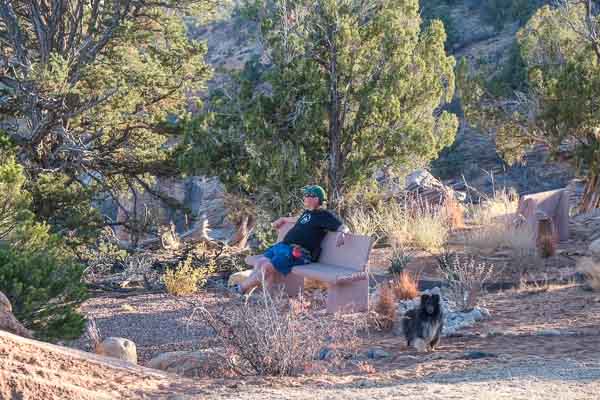 Russ and Ella rest and take in the canyon views from a spot of peaceful comfort.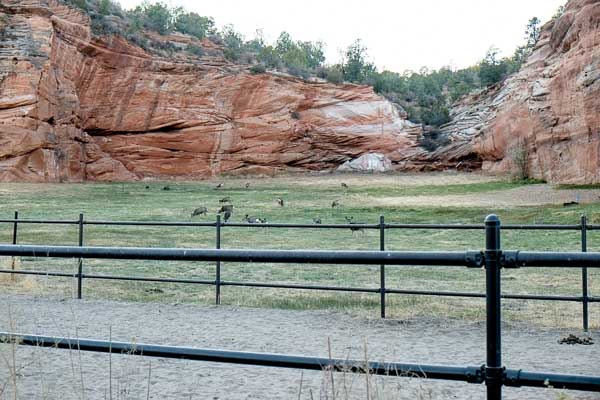 The Best Friends community deer herd grazes contentedly at nightfall.