Artist Remarks  - give a little bit – Greyhaven Exotic Bird Sanctuary Sept  2016
Wendy Kwan
When Russ and I chose the "give a little bit" title for this collection three years ago, we were aware that there were many volunteers in the Greyhaven family - who undoubtedly gave more than "just a little bit". In fact we absolutely knew – that they gave A LOT!!
"Give A Little Bit" was invented as a call to action to those who may not be familiar with Greyhaven – that a small donation - or a bit of volunteer time would be enormously appreciated by the flock.  For me  "give a little bit" also stands as a symbol of all those extra little things that Greyhaven volunteers do on a routine basis. Giving an extra "scritch" or quiet chat with a sanctuary bird,  dropping everything to run out to help a bird in distress,   spending extra time to chat with a curious neighbour who queeries  "So, I'm thinking about adding a bird to my family …. ", or  adopting a bird with special needs issues. These are only a few examples of the "little things" that happen every day in the life of Greyhaven.
Who would have thought – when we chose the "give a little bit" name – that Greyhaven would ever have embarked on the journey that has unfolded over the past 4 months. The energy expended and  and dedication shown – has been – and continues to be phenomenal. "give a little bit MORE" indeed.
In May 2016 the Greyhaven Directors made a brave decision to take leadership, along with the Night Owl Bird Hospital, in the rescue of 584 parrots from the distressed World Parrot Refuge in Coombs BC. The founder of the World Parrot Refuge had passed away in February 2016, and by the time the SPCA became involved, the situation for the birds was critical.
With the decision to act, Greyhaven unleashed not only their small but mighty force of volunteers, but also their hard earned financial resources - accumulated over 18 years of grass roots fundraising. A door of hope opened for the WPR birds.
With Greyhaven's involvement the coordination of a mammoth parrot rescue began. Immediate veterinary care was given to sick and injured birds at WPR, massive cleaning was completed with the remaining WPR staff and Greyhaven volunteers working together, and the birds were all removed and relocated from the refuge by July 26 2016.
The WPR birds are now safe and recovering in facilities across the lower mainland and on Vancouver Island. Adoption of the WPR birds is actively underway. The adoption process will be done with great care, so birds are matched with the right people in the right environments. Greyhaven continues to fund the rescue. As a small rescue, Greyhaven would usually intake and adopt out 200 birds per year. So 584 birds - many with significant medical and behavioural needs - challenges and pressures Greyhaven's volunteer and financial resources.
Greyhaven still needs help from all of us – to look after all the birds, to rebuild their funding foundation, to ensure that current and future Greyhaven birds are well cared for in all circumstances. We will do this together – of that I have no doubt.
To those who have given so much over the past 4 months – I know that if the birds could talk – and let's face it – some of them actually can!! – they would be acknowledging all of you with words of thanks - in an intense 100 plus decibel range!
"give a little bit" is dedicated to all of you.
Russ' graphics for "give a little bit" shine on the purple entry wall at the Tsawwassen Arts Centre.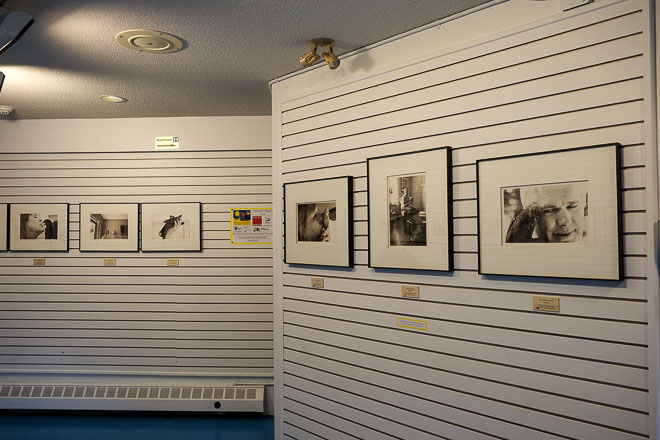 The pics are hung - awaiting an audience.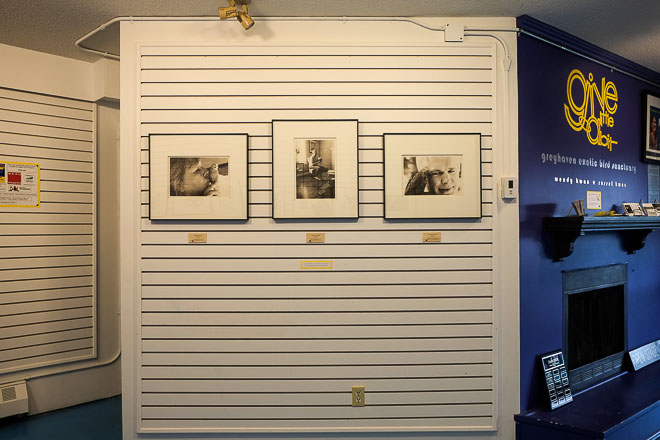 These 3 photos sold at our first "give a little bit" reception and book launch at Visual Space Gallery in 2013. The collection is limited to just 2 prints of each photograph . All monies from print sales go directly to Greyhaven.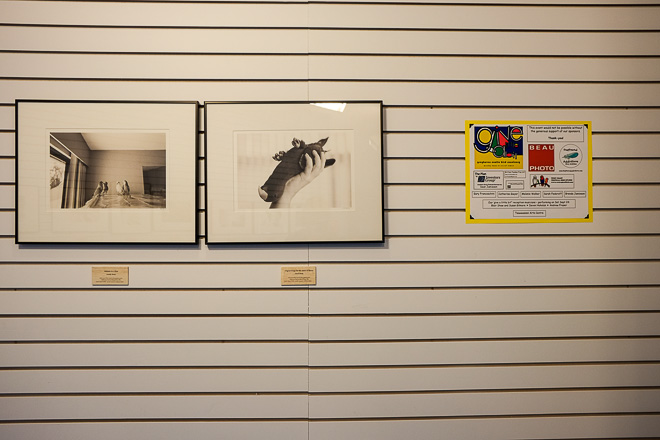 Our fabulous sponsors have been integral to mounting the "give a little bit" shows. A special thanks this time around to everyone at the Tsawwassen Arts Centre, and especially Jacqueline Hamlin, for supporting the show, and the Greyhaven Exotic Bird Sanctuary.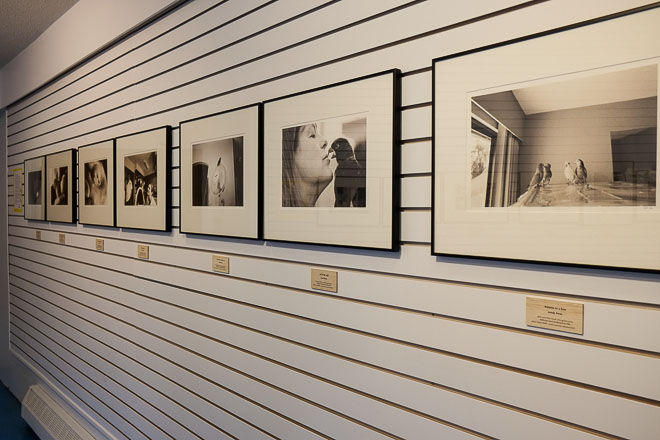 The longest picture wall. We sold 7 prints at the reception! Including the 2 in the foreground of this photograph. $2000 was raised through print and book sales and generous donations. Thanks to everyone who came and made this event such a success. We welcome our newest "collectors"! Thanks also to those who could not attend, but sent in donations directly to Greyhaven. We appreciate all our friends and students who supported this exhibition.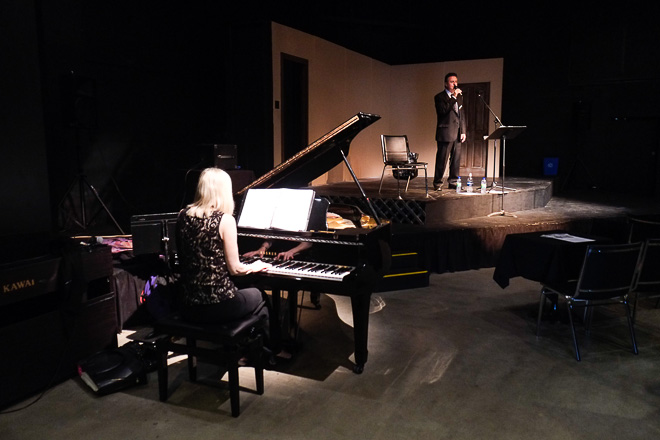 Our exceptional talent created a wonderful atmosphere for all our guests. Thanks to Blair Shaw, Susan Gillmore, and Andrew Fraser for sharing their music. Everyone donated their time and talents "for the birds". Also a huge thanks to fellow Greyhaven volunteer Sarah Fedoroff for coordinating all the musicians. Sarah also brought along the most incredible chocolate macarons for our refreshment table. mmmmmmm.
Of course the real stars of the event were the birds. Ariel the Macaw keeps everyone entertained in the gallery area. Thanks to Jenny Tamas for bringing Ariel for "an outing". That's one of our students, Kevin, giving Ariel a wave.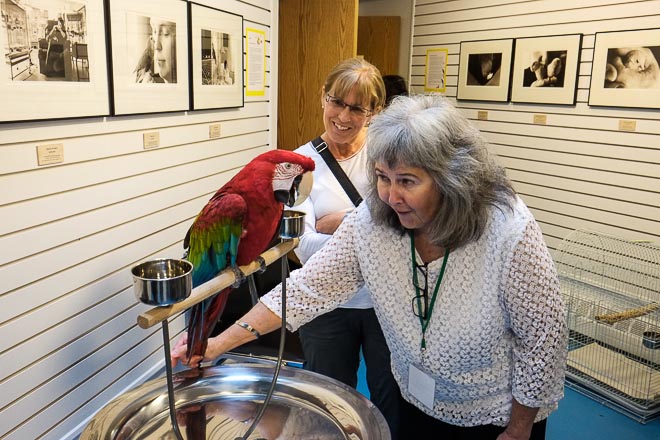 Greyhaven president Melanie Walker strikes up a lively interaction with Ariel.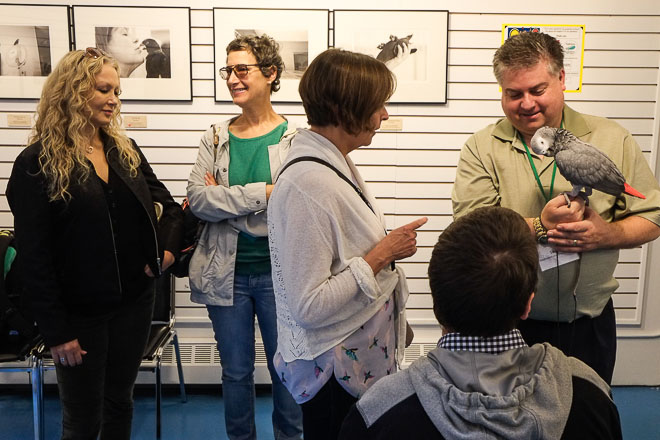 On the other side of the gallery we are grateful to Sean Jamieson for bringing along LouLou - an African Grey Parrot. LouLou was by Sean's side for the whole event - even while he performed his MC duties. Sean and his wife Brenda also contributed some yummy goodies and helped plan the reception.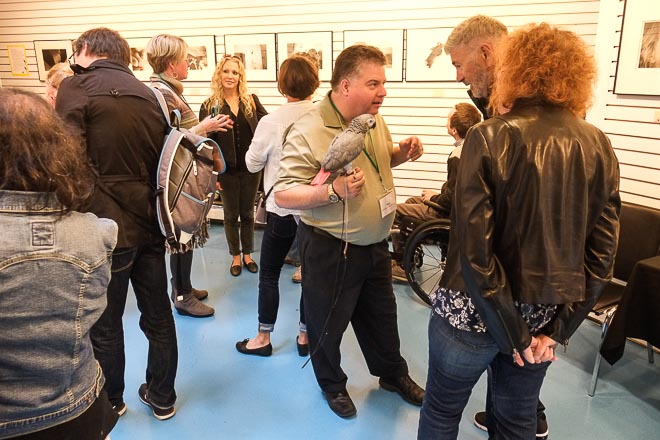 LouLou attentively listens to the surrounding conversation. (Just one of the crowd!)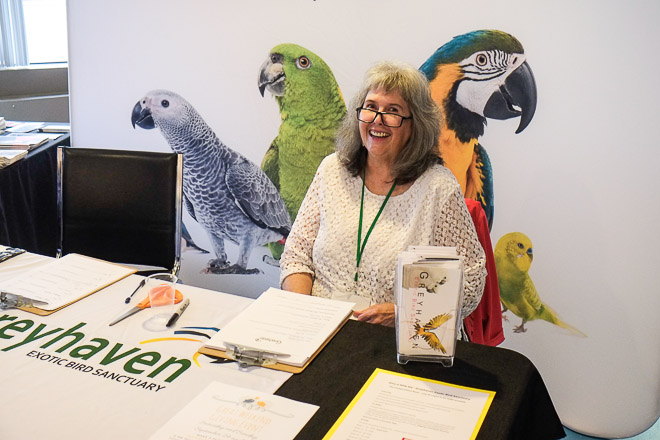 Melanie and friends.
Jan Robson gives one of her fabulous talks on "How to Survive Being Owned by a Parrot" - with her little lovie riding shotgun. We really had an incredible fun packed event - and best of all Greyhaven came away with a greatly needed $2000 in funds. Greyhaven and Night Owl's massive rescue of birds from the World Parrot Refuge continues. Support is still needed. Donations andvolunteers are always welcome. If you are considering a bird for your family please research the ups and downs of parrot ownership - consider the kind of bird that may fit your family, and then please don't buy, don't breed, ADOPT!! For further information and updates on the WPR birds go to www.greyhaven.bc.ca
---