Ephemerons
Wendy Kwan
---
Visual discoveries are a key part of my photographic process. I'm always looking and trying to interpret the fascinating things that make up our visual world. "Ephemerons" are my personal response to one such intriguing and extraordinary discovery.
A quiet beach, near Gearhart on the Oregon coast, revealed a phenomenal scene. Through the action of wind, tide, water, and on the heels of an unusually stormy season, a short stretch of beach had been transformed into series of unusual shapes and patterns. Abstract, rhythmic, surreal, any number of translations presented and captivated me. I worked quickly and deliberately, aware that the perfect high overcast light, and the fleeting features themselves, would likely never combine again. This is peak performance time for a photographer, when all acquired visual and technical skills are called upon to create a sensitive interpretation.
"Ephi" and "Ephu", part of the Ephemerons series, result from my "day at the beach". As viewer, you are now welcome to explore and interpret the photographs, from your perspective.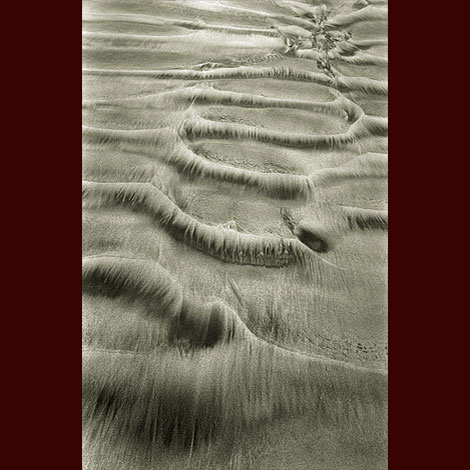 ---