Vanishing Silver
Wendy Kwan and Russel Kwan
---
Alex and Reynold were returning through the tall, damp grass of the Pynnseyside when they happened upon the end of silver.  "How very queer!" exclaimed Reynold.  "I wonder what this means for us?" Alex wondered.
In the distance, they could see the warm lights in the tiny silver milling village of Pynnsey slowly winking out, one by one.  Gipper growled softly, not knowing what to make of the growing darkness.
"Come on!" whispered Alex, her heart starting to thump with alarm.
By the time they breathlessly arrived in Pynnsey, all the lights were out, and night was fast falling.  Harry was the only one outside, humming an inane tune, and steadfastly splitting wood for the winter.  "What on earth is going on?" shouted Alex, as fresh snow started to fall.  "What?" asked Harry, as Enid emerged from the house carrying a basket of freshly baked scones and a nice cup of tea.  "Why have all the lights gone out?" shrieked Alex, her hair starting to stand on end.  "Winter is coming," replied Harry, after some thought.
As the little group settled into tea, and Gipper curled up near the fire, winter closed in.  Pynnsey and her silent silver mill stood alone against the wind, with just Harry's humming to keep her company.  The silver had turned to sand.
Afterword:  These photographs were made mostly in abandoned silver mining towns in Montana, and more recently in Idaho and Wyoming.  When we commenced this project, the biggest names in silver photography were in trouble.  We were working through the last stocks of our favourite films in our freezer and silver's winter seemed very near.  Indeed, some of the materials and manufacturers used in this project have vanished forever.  Humming against the wind, we remain committed to silver.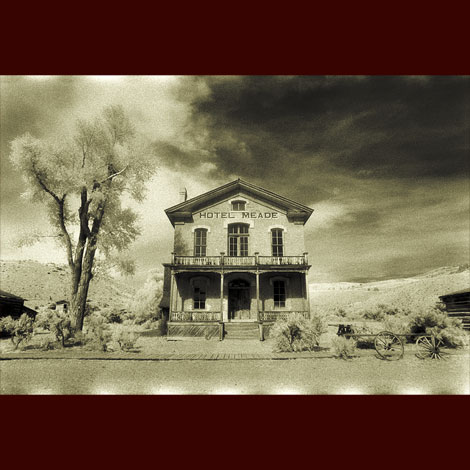 ---